Regular price
Sale price
$15.95 USD
Unit price
per
Sale
Sold out
Loaded with natural oils

A gentle ear wash for dogs and cats

No alcohol

No stinging oils; such as Witch Hazel

No propylene glycol
Treat and soothe yeast infections, fungal infections and other pet ear health woes with this sweet-smelling, naturally sourced ear wash for dogs and cats utilizing wild oils. For pets, particularly dogs, with floppy ears, irritation and infections are common problems that need to be addressed as soon as possible. Cleaning your pet's ears can be even more difficult when the product you're using isn't gentle.

Our herbal ear wash is formulated to be safe for everyday use, and it leaves no oily residue! Groomers love our ear wash as it leaves surfaces clean, and since it is clear, it is non-staining for white dogs' ears.

When infections and irritation happen, pets are prescribed anti-fungal washes, but many of those products include propylene glycol and stinging ingredients like alcohol or witch hazel. The herbal ear wash by EnduraPet is sourced from a range of natural, organic ingredients that soothe the area without aggravation. Our ear wash,  formulated by a holistic veterinarian, helps your pet stop scratching, so the infection heals faster.


INGREDIENT
BENEFIT

 

 Spring water

No need for harsh alcohol in this ear wash! We start with pure cleansing spring water.

 

 Peppermint oil

Provides soothing and cleansing feel for your pet's ears.

 

 Spearmint oil

Acts as an antiseptic, while also providing pleasant scent.

 

Lemon eucalyptus oil

 

An excellent natural bug and mite repellent, years of anecdotal evidence suggests that it also helps open eustachian tubes.

 

 Tea tree oil

Is anti-fungal and anti-viral.

 

 Rosemary oil

Is an anti-oxidant, and helps soothe irritated skin.

 

Saponified coconut oil,

organic olive oil, organic jojoba oil

Lubricates dry ear wax, softens earwax and debris, making it easier to remove and clean.
Share
View full details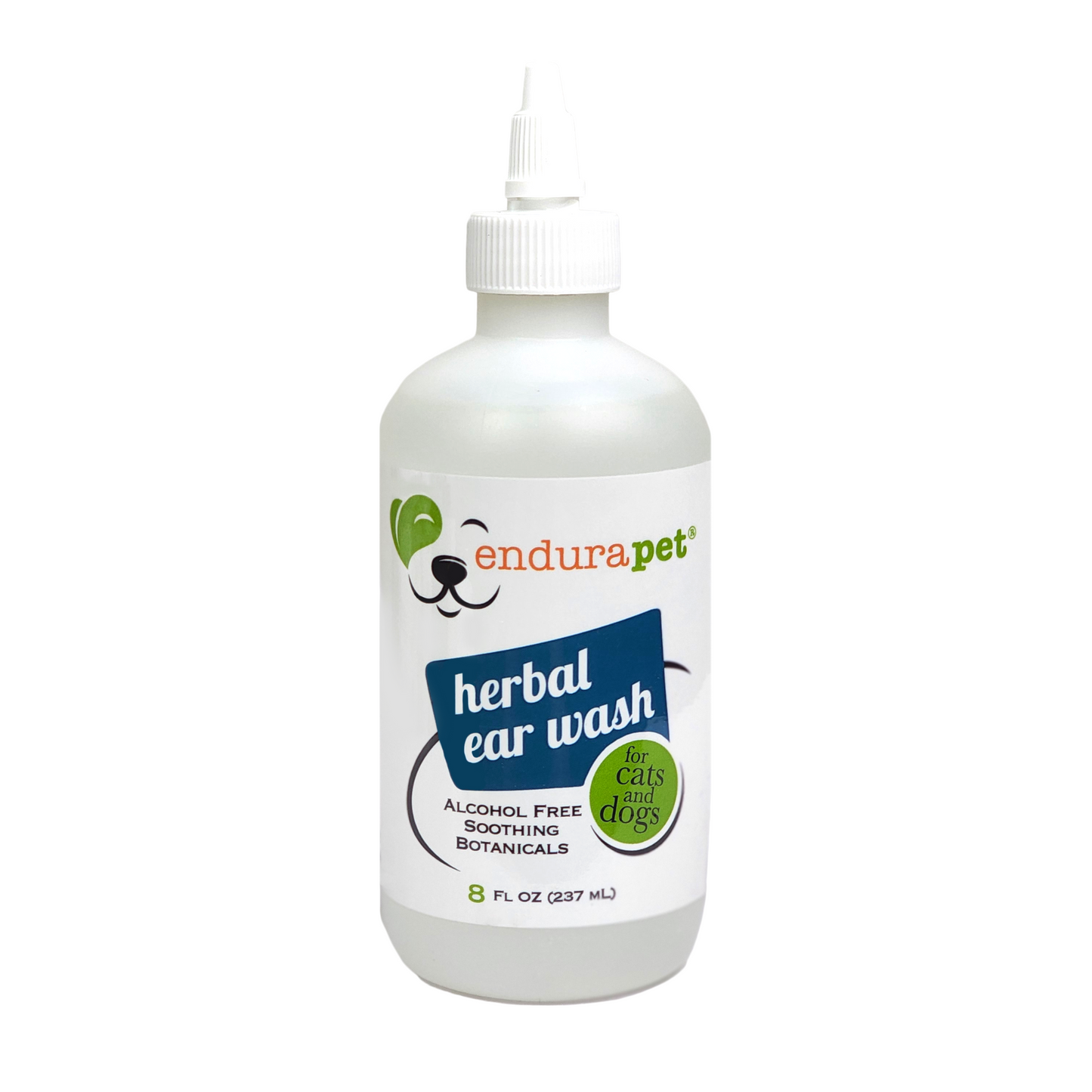 We take a holistic approach to pet health and we're extremely careful about sourcing our products, using natural and organic ingredients whenever possible. We also research our formulas carefully and only include ingredients that boost your pet's immune system in specific ways: Read more about how each ingredient in our Mobility Plus supplement works to prevent joint pain in your pet.
*As with anything new, even diet changes, please consult your veteranarian to make sure your pet can use these products. All products work together, there is no worry of overlap or double dosage of ingredients.