Regular price
Sale price
$15.95 USD
Unit price
per
Sale
Sold out
Also: Mosquitoes/ Bees/ Biting flies
Natural herbal flea and tick spray

Loaded with natural ingredients

An effective way of keeping fleas and ticks away

 

Formulated by a holistic veterinarian
Contains NO alcohol
Crafted with naturally sourced wild oils
Safe for dogs and cats over 8 weeks of age
Highly effective, pleasant scent
No synthetic toxins or harmful residue
Gentle on skin
This sweet smelling flea and tick spray is formulated for us by a holistic veterinarian, and is designed for dogs and cats. However, some of our customers have said they enjoyed our herbal flea and tick spray so much, that they used it on themselves. When you use our cat and dog flea treatment, you can count on an efficient formula that doesn't irritate your pet or carry a strong smell. The herbal flea and tick spray by EnduraPet contains no chemicals, pesticides, artificial preservatives, artificial colors, artificial fragrances or alcohol. Because it is such a gentle product, it can be used time and time again without irritating your pet. Our flea and tick spray is bottled in BPA-free plastic containers making it not only efficient, but sustainable. Because it is a natural flea and tick spray, it is safe for the environment as well as for your pets! Make sure to shake well before each use.
Ingredients:
Spring Water

Organic Oil Blend

Peppermint Oil

Spearmint Oil

Lemongrass Oil

Clove Oil

Cedar Oil

Lemon Eucalyptus Oil
Share
View full details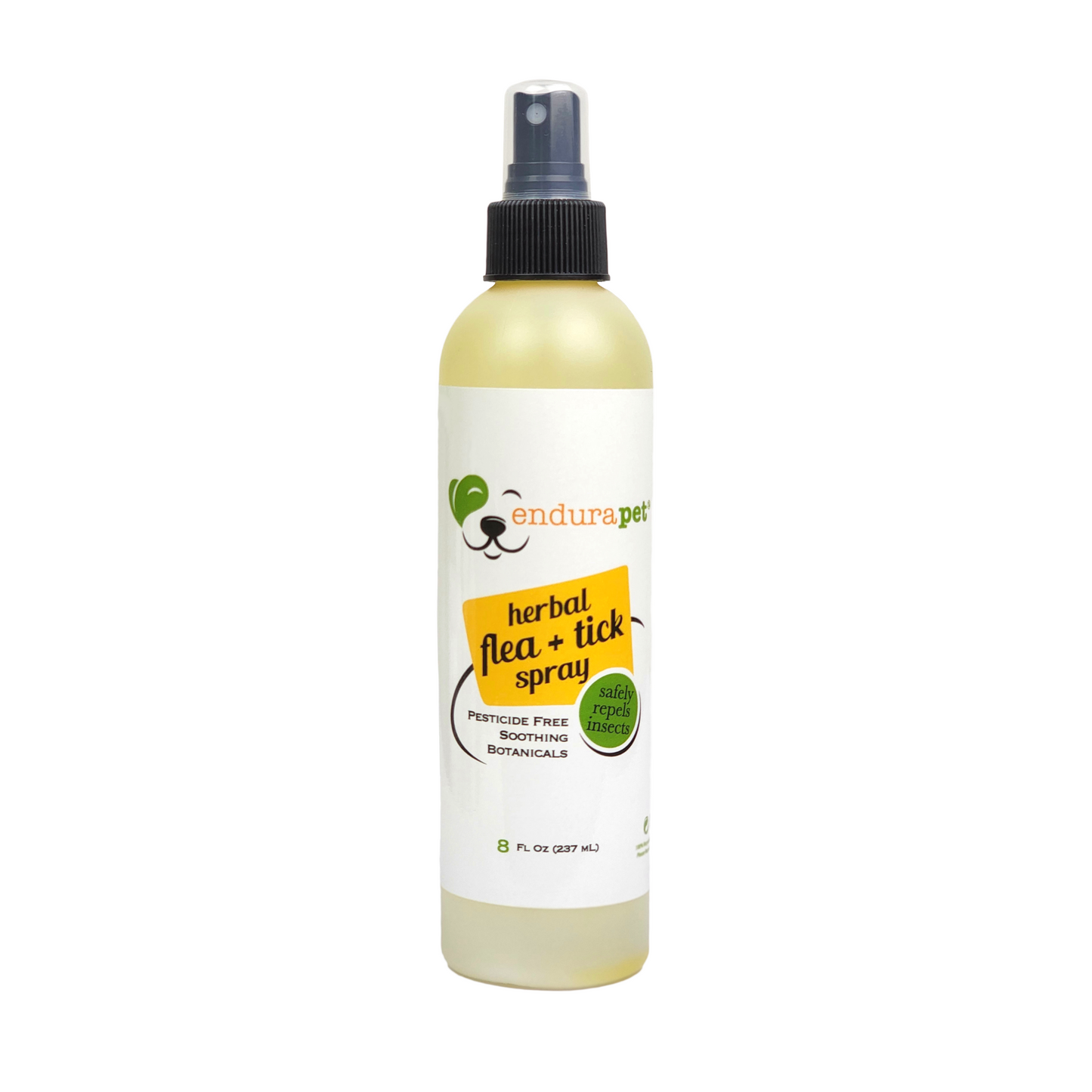 We take a holistic approach to pet health and we're extremely careful about sourcing our products, using natural and organic ingredients whenever possible. We also research our formulas carefully and only include ingredients that boost your pet's immune system in specific ways: Read more about how each ingredient in our Mobility Plus supplement works to prevent joint pain in your pet.
*As with anything new, even diet changes, please consult your veteranarian to make sure your pet can use these products. All products work together, there is no worry of overlap or double dosage of ingredients.