Regular price
$104.85 USD
Regular price
Sale price
$104.85 USD
Unit price
per
Sale
Sold out
Finally: Effective relief for your pet's mobility problems. Arthritis, hip dysplasia, knee or other joint problems don't have to slow your best friend down completely. Our natural formula is safe for all pets and recommended by veterinarians.
Mobility Plus is backed by a 60-day money back guarantee. 
Free Shipping for all orders over $36.00.
Made in Colorado,
US
A
EnduraPet is proud to be a BBB accredited business
Try Mobility Plus

today

if your pet experiences any of these symptoms:

Difficulty jumping in and out of your car (or on the comfy bed or couch)
Difficulty going up and down stairs
Luxating patellas (slipping knees)
History of previous injury or breed likelihood for developing arthritis
Tiring quickly/decreased energy level



Frequent licking of paws or joints
Previous corrective surgery for orthopedic problems
As a safe preventative if he or she is reaching older adulthood
We go so far beyond the standard formulas on the market, and it shows.

Our formula is safe and effective, won't damage internal organs, and pets love the taste!
"Moey (11 yo poodle with luxating patellas) has been on other (well known and pricey) glucosamine & chondroitin supplements for years. So I didn't expect to see any difference when we started him on Mobility Plus. But now, he regularly races our younger dog up the stairs with NO difficulty! Thanks, EnduraPet! " Tami in Denver

"

Loving EnduraPet's Mobility Plus! My 7-yr. old beagle, Sparky, has severe arthritis and hasn't been able to jump on the couch for months until last night. He's been on EnduraPet's Mobility Plus for 6 days and has been able to conquer the otherwise challenging leap to cuddle with Mom and Dad!

"
Tonia- CO
"Just one more plug for Mobility Plus! It really does taste good to the dogs. I've started crushing half a pill over my other two dogs' food. They LOVE IT! even my - 'I can smell medicine a mile away' kid loves it. He licks his bowl clean then goes to the others bowls to lick up any morsel the others may have missed! This kid (zephyr) knows meds before you get it out of the bottle. He runs and hides the second I even think of giving him medicine! I love Mobility Plus! "
Lisa-TX (yes, again!)

Don't just take our word for it: Read what else our customers have to say HERE
Made with  Human and pharmaceutical grade:
Glucosamine  |  Chondroiton  |  MSM  |  Omega-3 DHA  |  Hyaluronic Acid  |  Yucca extract  | OPCs  

Share
View full details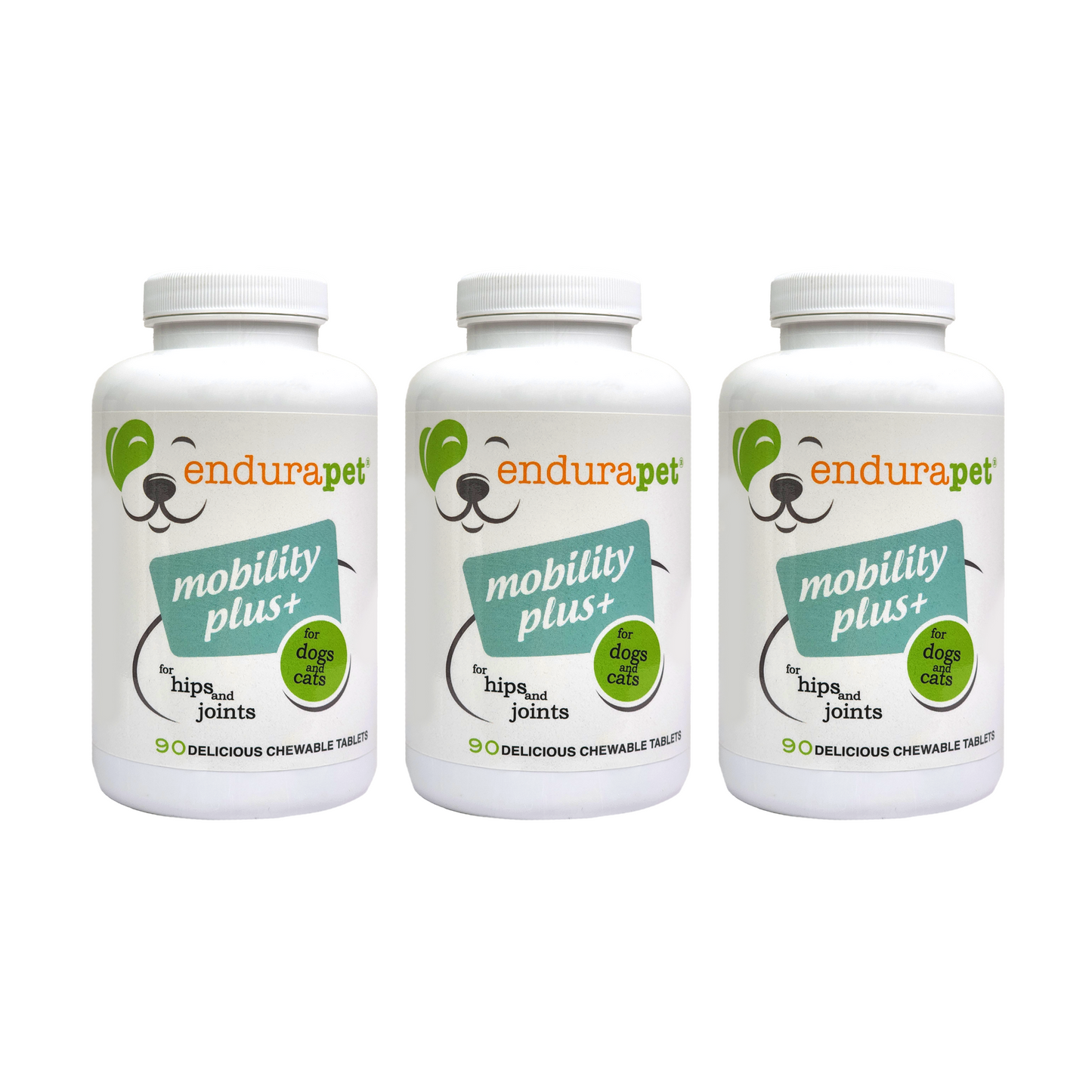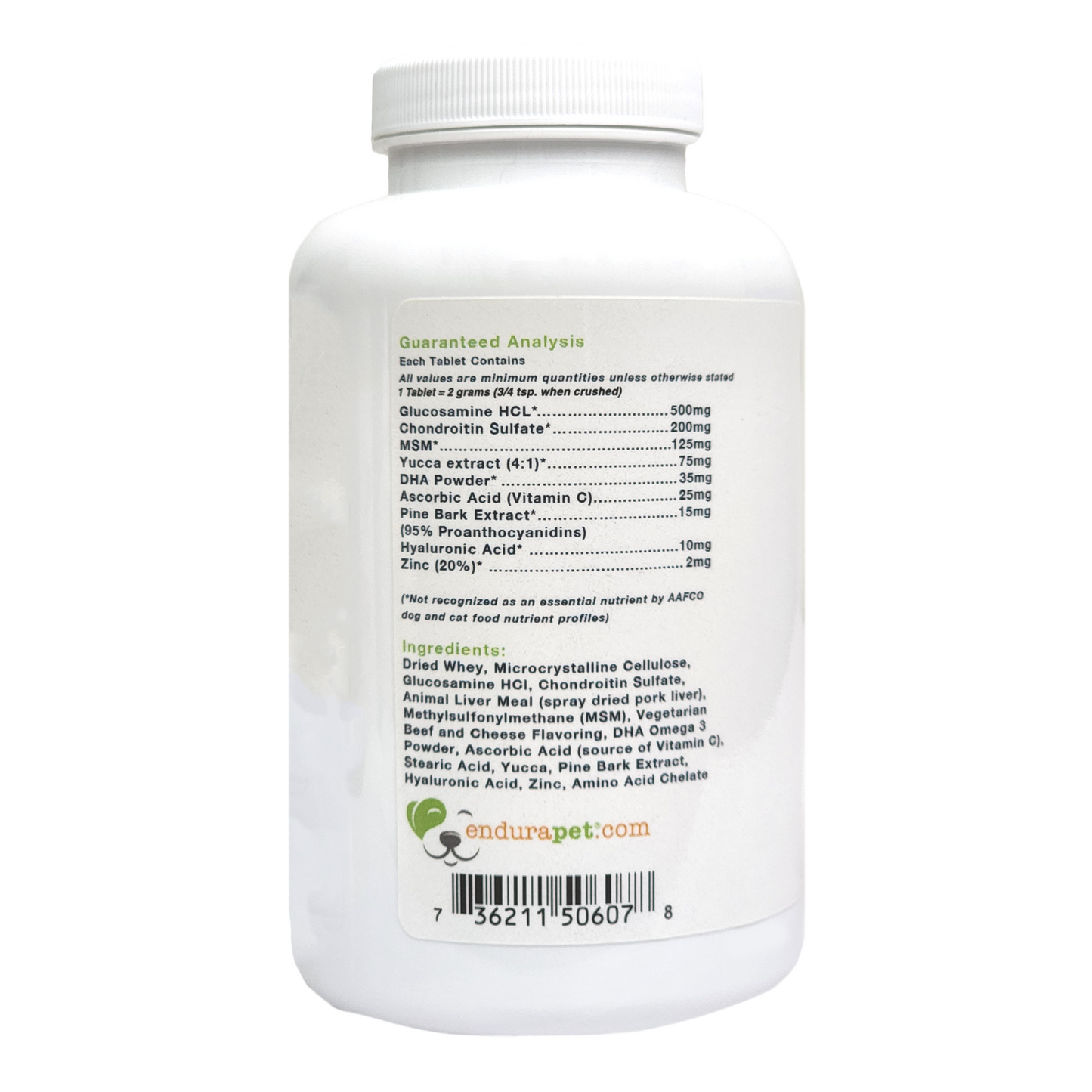 We take a holistic approach to pet health and we're extremely careful about sourcing our products, using natural and organic ingredients whenever possible. We also research our formulas carefully and only include ingredients that boost your pet's immune system in specific ways: Read more about how each ingredient in our Mobility Plus supplement works to prevent joint pain in your pet.
*As with anything new, even diet changes, please consult your veteranarian to make sure your pet can use these products. All products work together, there is no worry of overlap or double dosage of ingredients.