Regular price
Sale price
$98.85 USD
Unit price
per
Sale
Sold out
Includes 3 bottles of Immune Support.
Your pet's struggling immune system can fight back – with our meticulously formulated immune support supplement. 
If you're concerned about your pet's immune system, odds are you have good reason to be. We know the pain of trying to help a pet who is struggling with cancer, FIV, feline herpes, heart disease and other immune system problems – and when we set out to find an immune supplement that would help our beloved pets fight back, we had done the research to know exactly what ingredients would help them build a stronger immune system even in the face of serious disease.
Unfortunately, in all of the natural immune support supplements for pets on the market, we didn't find the combination of ingredients we wanted to see. We decided to use our hard-won research to create our own. Ideally we would like to see all pets on Immune Support before they begin to show signs of a compromised immune system. The good thing is that if you are just finding us now and have a pet with immune related difficulties, it also works quite well for cats and dogs who are already showing these signs. 
Just some of the conditions Immune Support can help with: 
Cancer  

FIV

Feline herpes

Lupus

Severe skin allergies

Heart disease

Frequent or chronic skin or respiratory infection

Stress or anxious pets (Stress is deeply connected to health and immune system function)


Exposure to environmental toxins

History of disease
EnduraPet Immune support's natural ingredients are all carefully chosen to help boost your pet's immune system without aggravating any of their symptoms or other health conditions they may have. We've found it is a particularly effective support the immune systems of pets who are suffering from cancer, heart disease, FIV and feline herpes, and skin and coat problems, but it's great even for healthy pets who need a strong immune system to avoid disease in the future. It is also important for you to know that proof of ingredient effectiveness is more important to us than having more ingredients than anybody else. We feel that less is more in many cases. To that end, we include the following disclaimer on all of our supplements: Results claimed to be expected from EnduraPet's products are based on scientific studies of the products' individual ingredients . As with most supplements, our finished products are not tested at university level clinical trials. For each and every ingredient, complete sourcing of all relevant studies is made within this Website 
60 tablets per bottle
 Veterinarian recommendations include: Dr. Erin Perkin, DVM Broomfield, CO. 
Share
View full details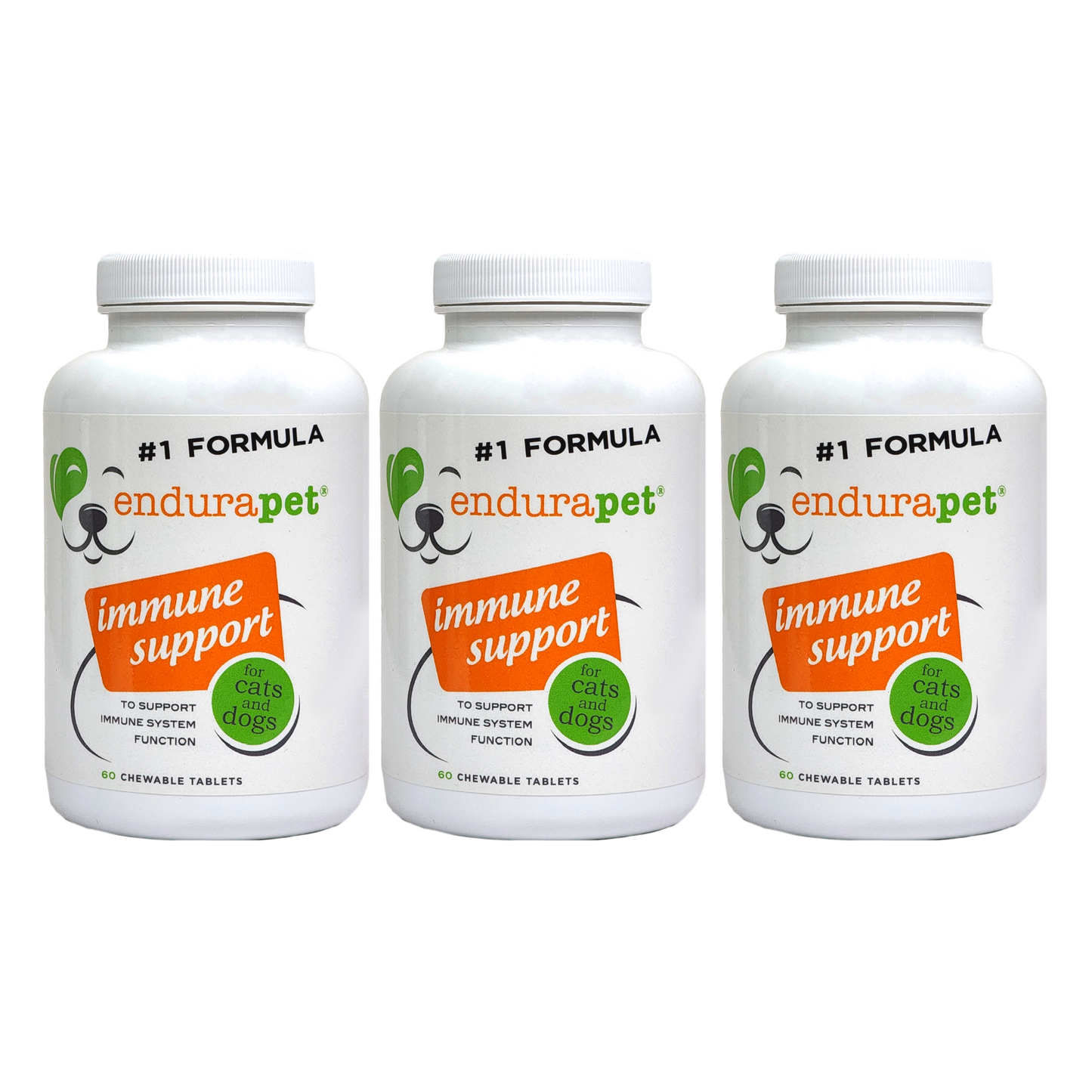 We take a holistic approach to pet health and we're extremely careful about sourcing our products, using natural and organic ingredients whenever possible. We also research our formulas carefully and only include ingredients that boost your pet's immune system in specific ways: Read more about how each ingredient in our Mobility Plus supplement works to prevent joint pain in your pet.
*As with anything new, even diet changes, please consult your veteranarian to make sure your pet can use these products. All products work together, there is no worry of overlap or double dosage of ingredients.