Regular price
$135.80 USD
Regular price
Sale price
$135.80 USD
Unit price
per
Sale
Sold out
Includes 2 bottles of Mobility Plus and 2 bottle Immune Support.
The superior joint protection from Mobility Plus paired with the outstanding immune system enhancing benefits of Immune Support . Comfort and protection in two tasty tablets!
FREE Shipping for all orders over $36.00


Mobility
Plus, 90 tablets: Safe, natural and effective joint support for dogs and cats. We go beyond the standard pet joint and arthritis formulas and we include DHA, OPCs, HA, MSM and yucca in addition to human grade glucosamine and chondroitin in therapeutic doses. The choice joint support for family pets, working dogs, agility dogs, hunting dogs and obedience champions, Moblity Plus and Immune Support are sure to be the best preventative measures you can take for your pet. Safe for daily use, safe to use with prescription medications, and won't damage internal organs.More about Mobility Plus HERE
Immune Support, 60 tablets: Our founding formula. EnduraPet Immune Support is unique among immune support supplements because it's recommended both for healthy pets and for pets whose immune system is somehow compromised. It is effective for both cats and dogs and is designed to keep their immune systems healthy and happy. Excellent for daily health, skin and coat health, and more. More about Immune support HERE 
Share
View full details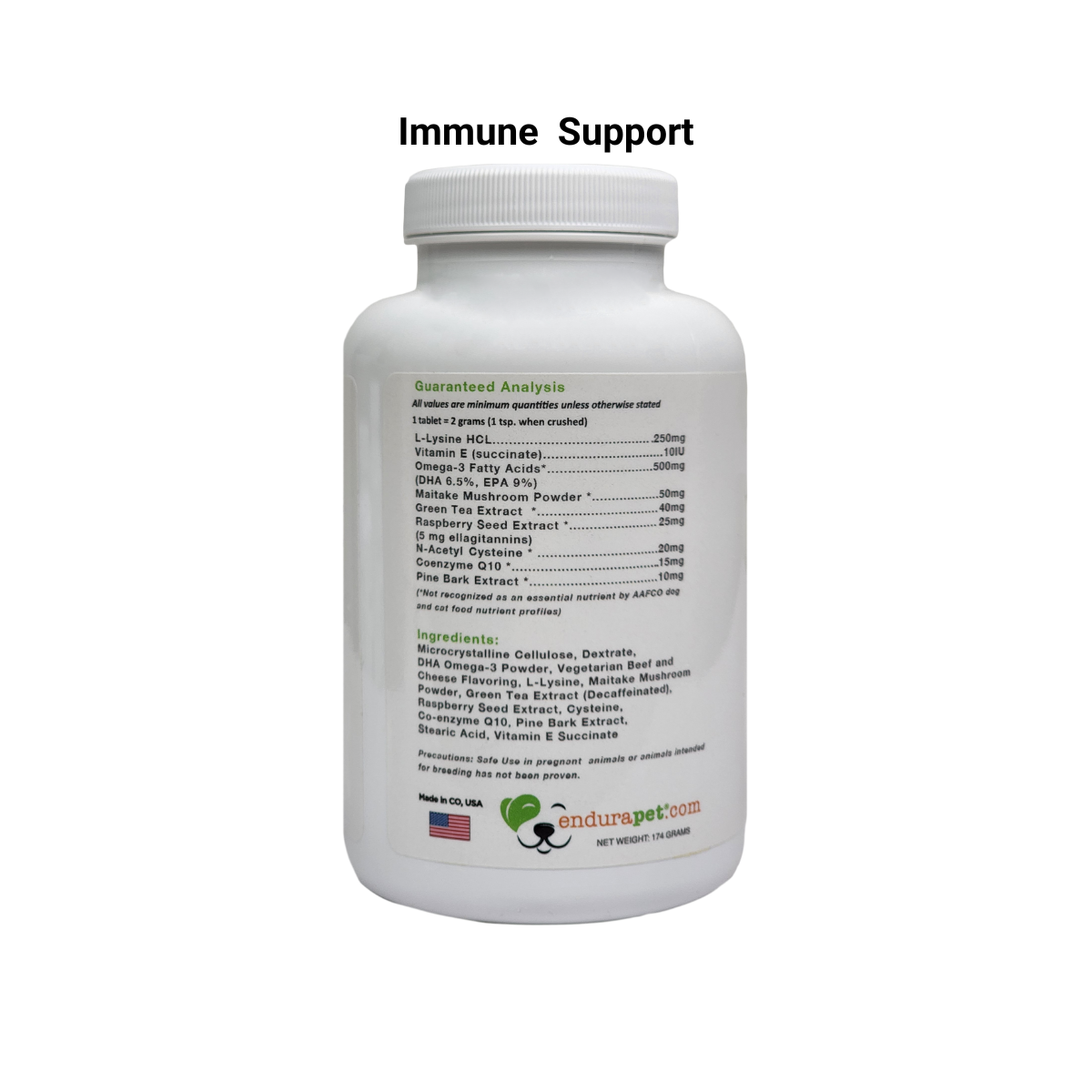 We take a holistic approach to pet health and we're extremely careful about sourcing our products, using natural and organic ingredients whenever possible. We also research our formulas carefully and only include ingredients that boost your pet's immune system in specific ways: Read more about how each ingredient in our Mobility Plus supplement works to prevent joint pain in your pet.
*As with anything new, even diet changes, please consult your veteranarian to make sure your pet can use these products. All products work together, there is no worry of overlap or double dosage of ingredients.